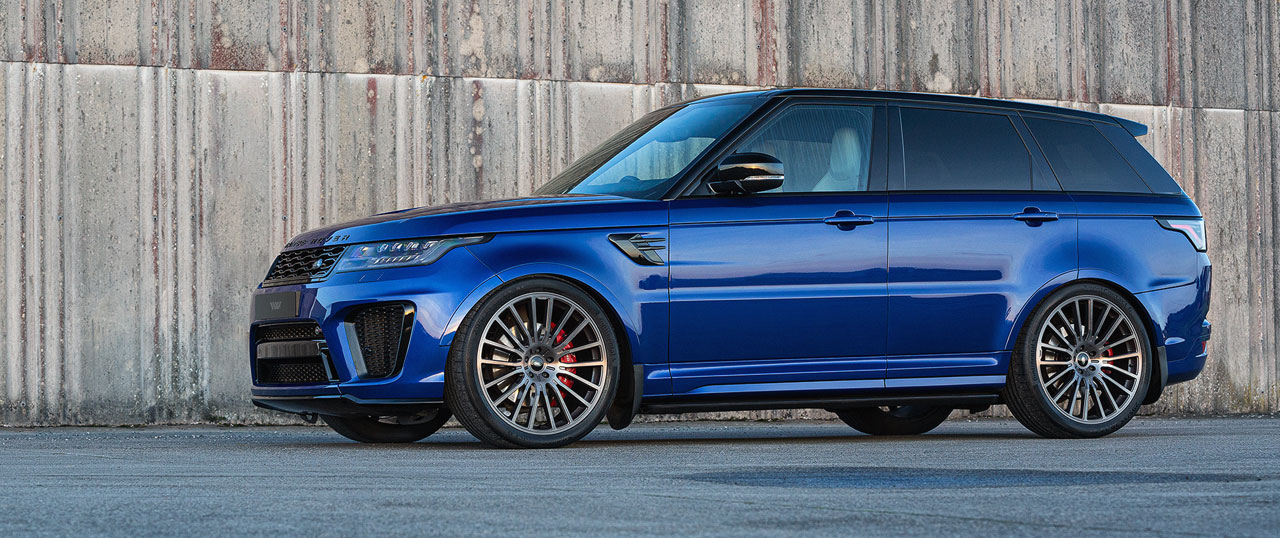 A CLASSIC BOLD MULTISPOKE WITH DEEP RECESSED CENTRE AND ENGRAVED SCRIPT. DESIGNED TO FEEL 'OEM PLUS' WITH A SPORTY AND REFINED AESTHETIC. CREATED EXCLUSIVELY FOR RANGE ROVER, RANGE ROVER SPORT, VELAR, EVOQUE and DISCOVERY.
The ISVR1 is Fusionforged™ for increased strength and reduced weight.



Why not spread the cost with Klarna?
Interest free finance available via our shop (UK only).
STANDARD FINISHES
Carbon Grey Brushed
01
---
ISVR1 Gallery
See the ISVR1 in Action
02
---
Specification
The ISVR1 in Detail

Flow form wheel manufactured using IW FusionForged™ and Motioncast™ technologies, designed to enhance modern Land Rover vehicles.
| Size | Con | Weight | Max LD | RRP |
| --- | --- | --- | --- | --- |
| 22 X 9.5 | PC | TBC* | 1025KG | £450.00 |
| 23 X 9.5 | PC | TBC* | 1025KG | £540.00 |
PLEASE NOTE
Centre caps NOT included. Please use OEM centre cap. Recommend part No LR069899.
CONCAVE OPTIONS
PC = Performance Concave
STUD PATTERNS
Land Rover - 5 x 120 / 5 x 108
WARRANTY
2 years warranty and lifetime structural integrity guarantee,
click here
for further details.
Please contact IW for fitment advice for your vehicle.
Please note prices shown include UK VAT at 20%
RegisterEd Design
The ISVR1 is a registered IW
design (reg no: TBC)
03
---
Finishes
ISVR1 Colour Options
OEM Centre Caps
The ISVR1 has been designed specifically to use OEM centre caps
04
---
Technology
Combining Cutting Edge Technologies

MotionCast™ - The Pinnacle in casting technology
FFR wheels are initially cast using the IW Motioncast™ process, a superior form of casting that produces a denser alloy with less impurities and air pockets, allowing for a lighter and stronger wheel than traditional Low Pressure Cast wheels.
Low Pressure Cast Alloy
More impurities and air pockets within the alloy
IW Motioncast™
Less impurities and fewer air pockets within the alloy

IW Flow Form Technology
IW FusionForged™ utilises our state-of-the-art flow form technology. This process uses a special drum combined with heat and pressure applied by rollers that compress stretch and form the wheel barrel to a pre-defined thickness and desired profile.

This alters the structure of the aluminium forging a wheel barrel that is thinner, stronger and significantly lighter (approx 25%) than a traditional cast wheel, with enhanced strength and reduced weight properties comparable to fully forged wheels.
Fusionforged™ Step 1

Each wheel is transferred from an oven to the flow forming drum. High pressure rollers move into position at the top of the wheel barrel.

Fusionforged™ Step 2

The rollers move down the barrel applying pressure to compress, stretch and form the heated wheel barrel.

Fusionforged™ Step 3

Flow forming alters the structure of the aluminium to produce a wheel barrel that is thinner, stronger and significantly lighter than traditional cast.
05
---
Concave Options
Two Concave Options Available